AmEx Gold Card Review (2022.3 Update: 90k+$250 Best Ever Offer!)
Non-affiliate disclosure: all information about the this card have been collected independently by US Credit Card Guide and has not been reviewed by the issuer.
---
2022.3 Update: There's a new 90k+$250 offer which is the best ever offer! It seems this offer is only via referral links and they can only be generated by some of the targeted users. The application link in our website has this best ever offer.
2021.10 Update: The card is now offering 75k MR points after $4000 spend in 3 months, plus 20% back on restaurant spend in the first 12 months, up to $250 back. This is the best ever offer! Screenshot.
Application Link
Benefits
90k+$250 offer: Earn 90,000 Membership Rewards (MR) points after spending $4,000 in first 3 months; plus, earn 20% back as statement credit at restaurants within 12 months, up to $250 back. This is the best ever offer on this card!
We estimate that Membership Rewards (MR) are worth about 1.6 cents/point, see below for a brief introduction. So the 90k MR part of the highest welcome offer is worth about $1,440!
Earn 4x MR per $1 spent at restaurants (worldwide); earn 4x MR at supermarkets (in the US); 3x MR per $1 spent directly at airlines; 1x MR per $1 spent on other purchases.

The 

4x MR earning rate at supermarkets is capped at $25,000 supermarket spending per calendar year, the cap is so large that many people can treat it as unlimited.

[New]

 $120 Uber credit: $10 Uber credit per month. You simply need to add this card to your Uber or Uber Eats account.
$120 dining credit: $10 dining credit per months good at Grubhub, Seamless, boxed, The Cheesecake Factory, Ruth's Chris Steak House, Shake & Shack. Must enroll first and pay using your new Gold card. Here's the link to enroll.
$100 airline fee credit for incidental charges such as checked bags per calendar year. Because this benefit resets according to calendar year instead of when you opened the card, you can actually get airline fee credit TWICE during the first year! Note that this benefit is not automatically enrolled, you need to enroll and specify an airline by clicking here. [Update] The air fee credit will discontinue for everyone starting from 2022; and it is not available for 2021 if you applied after Feb 4 2021.
No foreign transaction fee.
With this card, you have access to Amex Offers, which often offers very good discounts at some stores. In the past we have seen offers like: Spend $15 or more and get $5 back at Walmart; Spend $75 or more and get $25 back on Amazon.com.
Refer a friend: You can earn 10,000 bonus MR points for every approved account you refer, up to 55,000 MR points per calendar year.
This card is very easy to get approved, because it is a Charge Card, not a Credit Card. Charge card means that you don't have an option to pay only minimum payment, you have to pay your balance in full on the due dates. Note that Charge Card applications will also result in a Hard Pull, same as Credit Card applications.
Charge Cards have no pre-set spending limit.
Disadvantages
$250 annual fee, not waived for the first year.
There is no annual fee for up to 5 Additional Cards. But the annual fee for 6 or more Additional Cards is $35 for each Card.
The 4x at supermarkets are limited within the United States.
Introduction to MR Points
You can earn MR points with AmEx ED, AmEx EDP, AmEx Green, AmEx Gold, AmEx Platinum, AmEx Platinum for Schwab, AmEx Platinum for Morgan Stanley, AmEx Blue Business Plus, AmEx Business Green, AmEx Business Gold, AmEx Business Platinum, etc.
The MR points you earn on different MR cards will automatically go to the same MR account.
MR points never expire. You will not lose the MR points on one card if you close the account, but you will lose all of the MR points if you close all of the MR cards. In order to avoid losing your MR points, we recommend to keep the no annual fee AmEx ED.
If you have any of the MR cards, MR points can be transferred to some airline miles. One of the most common and best way to use MR points is to 1:1 transfer them to All Nippon Airways (ANA, NH) miles (Star Alliance). Other good options are: Air Canada (AC) (Star Alliance), Delta Air Lines (DL) (SkyTeam), British Airways (BA) (Oneworld), Asia Miles (Oneworld), Singapore Airlines (SQ) (Star Alliance), Flying Blue (SkyTeam), Virgin Atlantic (VS) (Non-alliance), etc. If you use MR in this way, the value is about 1.6 cents/point.
If you have any of the MR cards, you can redeem your MR points at a fixed rate about 1 cent/point towards air tickets on AmEx travel portal.
If you have AmEx Platinum for Schwab, you can redeem your MR points at a fixed rate 1.1 cents/point towards cash. If you don't want to spend time studying airline miles, this is a pretty good way to cash out the points. If you don't have this card, you can only redeem your MR points at a fixed rate 0.6 cents/point towards cash.
In summary, we estimate that MR points are worth about 1.6 cents/point.
For more information about MR points, see Maximize the Credit Card Points Values (overview), and Introduction to MR: How to Earn and Introduction to MR: How to Use (very detailed).
Recommended Application Time
You can only get the welcome bonus once in a lifetime, so be sure to apply when the historical highest offer appears.
AmEx doesn't care about the number of hard pulls.
You can try to apply for it when you have a credit history of 6 months.
Summary
This card is revamped from AmEx Premier Rewards Gold (PRG). The new Gold card has much better points earning structure although we're paying a higher annual fee. If you can utilize the $120 Uber credit and $120 dining credit, then you should consider holding this card even in long term, because 4x points at restaurants and supermarkets easily surpasses other cards. In summary, the new Gold card is a strong competitive product by Amex.
Related Credit Cards
Note that, although the look and benefits of the following cards are almost the same, they are different products, and they don't affect each other's sign-up bonus:
Recommended Downgrade Options
You can not downgrade this card to any card with no annual fee, so I suggest you close it when you don't want to keep it any longer.
After Applying
Click here to check AmEx application status.
AmEx reconsideration backdoor number: 877-399-3083. The "real" backdoor number of Amex is well protected. Different from Chase, the representatives from this AmEx reconsideration backdoor number only have the right to help you submit requests.
Historical Offers Chart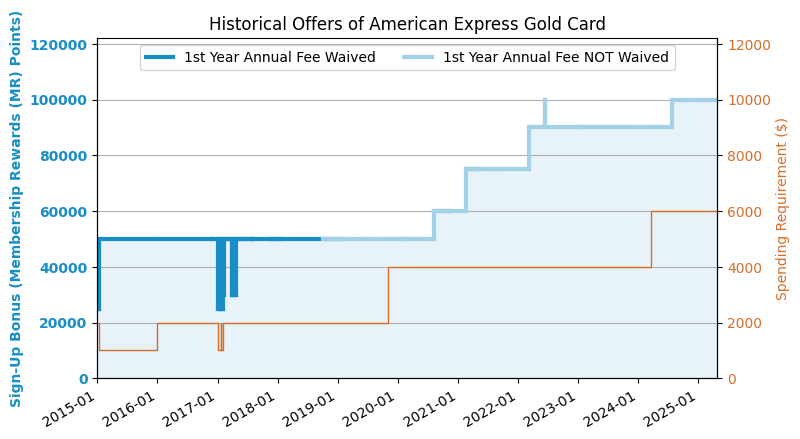 Application Link
---
Share this post with friends
If you like this post, don't forget to give it a 5 star rating!
[Total: 

7

   Average: 

4.9

/5]
Products You May Like